ZB.com's Announcement on Filenet(FN) Subscriptions Results
Dear users,
The ZB UP project Filenet(FN) has successfully concluded at 18:00 on October 20, 2019(GMT+8). By the end of the subscription, a total of 1892 users participated in the subscription, and the total subscription amount reached 1.5 times the total amount of FN offering. Thanks to all users for their active participation!
This FN subscriptions set a lucky prize of 5% of the total sales amount, and 20 lucky users will share the Lucky Prize, which not relate to the subscription amount and is not limited by their subscription amount. The first block hash value of BTC after the FN subscription ends is: 00000000000000000010656aa423f15a3c0cb4400620f68b6b1a2ebfc3de5a5b, after removing all letters and keep digits, it is 00000000000000000010654231530440062068612355. Take the last six-digit number 612355 as the lucky number, according to order of the absolute value of the difference between subscription number and lucky number, the first 20 users with the smallest value are lucky users, and the users' subscription number are as follows.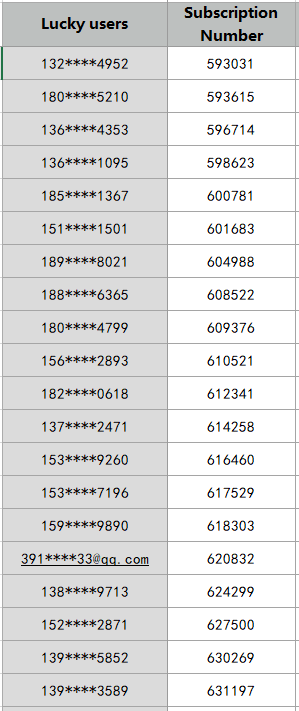 The lucky prize winners need to collect their prize during 18:00 to 20:00 on October 20, 2019(GMT+8), otherwise it will be deemed as waive the prize.
The system has calculated the FN received amount of all subscription users according to the VIP level, subscription amount and the lucky prize winning results, and has distributed the successful purchased FN to the users' account and returned the remaining ZB tokens.
User can login to the account and enter "My Subscription" page to check the subscription status and FN distribution progress.
ZB.com will open FN trading at 10:00 on October 21, 2019(GMT+8)
EXCHANGE Market: FN/QC
ADVANCED Market: FN/USDT
Users can transfer funds to the "Advanced Market" for FN/USDT trading, or directly trade FN via FN/QC trading pair in the "Exchange Market".
Risk Advisory: Cryptocurrency is a high-risk investment. Investors should be cautious about participating in it. Before deciding to buy or sell, they should carefully consider the degree of risk they can bear and pay attention to investment risks.
Thank you for your support!
ZB Global Team
October 20, 2019

Follow Us
Telegram: ZB English https://t.me/ZB_English, ZB Support https://t.me/ZB_support
Twitter: @ZB_Group https://twitter.com/ZB_Group
Facebook: @ZBGlobalGroup https://www.facebook.com/ZBGlobalGroup
Linkedin: ZB Group linkedin.com/company/zb-digital-assets-group
Medium: ZB.com https://medium.com/@zbhk
Reddit: r/ZBExchange https://www.reddit.com/r/ZBExchange/